Rosy, Glowing, Healthy Skin
HEALTHY, GLOWING SKIN doesn't come from a makeup kit. The best makeup in the world, even applied by a talented makeup artist, can't transform unhealthy-looking skin into a rosy, glowing complexion. Transformation needs to take place from the inside out and that is facilitated by what you apply to nourish, feed and correct it. Your skin is a reflection of what you eat and drink as well as what you apply to it.
The skin is continually undergoing a renewal process as dead cells are sloughed off and new epidermal cells take their place. Because epidermal cells are constantly in a renewal process, there is always hope for a renewed complexion. If we combine a diet rich in vitamins, minerals, and phytonutrients, along with getting rid of the skin destroyers such as sugar, alcohol and junk food, we can then expect that what we apply topically will have a far greater impact on how our skin appears.
That said, what we put on our skin has a huge effect. It has had for me. Since I have discovered skin products by two amazing ladies, my skin has changed dramatically. I've noticed it glows more than ever and is healthier looking by the day. What we apply topically does have a great impact on our skin.
I encourage you to take a look at the products by Nataliya Birkas Skin and Beyond Wellness Center and Emily Fritchey the Skin Whisperer Sunshine Botanicals. These products are made with superior ingredients that won't harm your body. Ingredients that will feed your skin and truly make a difference in how it looks and feels.

Sunshine Botanicals
Our Products are Pure and Free Of:
Parabens, Phthalates, Propylene Glycol, EDTA, All Sulfates, Synthetic Fragrances,  Mineral Oil, Petroleum and Artificial Colors
Our Products are Cruelty-Free!
Our Passion is Your Solution:
Sunshine Botanicals was created as a result of the combined passions of a Master Herbalist and a Holistic Aesthetician, who were determined to bridge the gap between science and nature – to develop effective alternatives for results-oriented skincare without the use of chemicals or drugs. And we did just that. As practicing herbalists, we understand the healing power of nature.  Our products are "microbrewed" in small batches to ensure freshness and potency, and all our herbal tinctures are made by hand…all tinctures are stared on the beginning cycle of the new moon (age-old agricultural principles at work here) in order to extract the maximum effect and potency of each plant or herb. The results speak for themselves.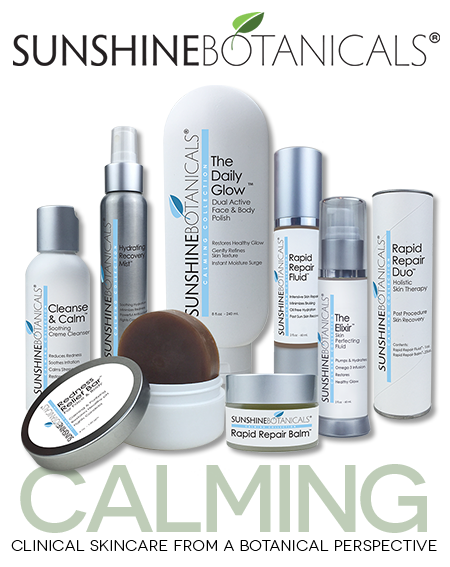 We're Ingredient Snobs:
For you, that's a good thing. We are very picky about the ingredients we use. We are always looking for the highest quality ingredients available for our products and "certified organic" guarantees the quality of the plant material. The problem is, that certification is very expensive and not available in every country. The raw materials we use come from many different regions and different parts of the world. That said, if a certified organic ingredient is available, we use it.  Our suppliers provide us with the highest quality raw materials available, whether or not they are certified organic -they are always pure.
Shop Ageless Collection
Shop Essential Collection
Shop Calming Collection
Use code CHERIE10 at checkout to receive a 10% discount through May 20, 2018.